Inhalt
Margaret Honda
An Answer to 'Sculptures'
Eröffnung: Donnerstag, den 28. April 2016, 19 Uhr
29. April – 31. Juli 2016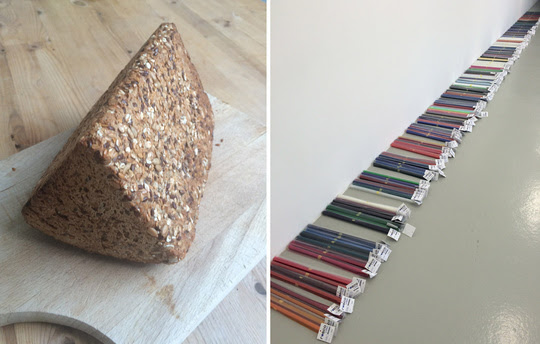 (please scroll down for English)
Seit den späten Achtzigern entwickelt Margaret Honda (geb. 1961 in San Diego, lebt und arbeitet in Los Angeles) ein Werk, das, unabhängig ihres gewählten Mediums, in seinem Wesen skulptural ist. Herstellungsprozesse, die Geschichtlichkeit von Objekten und das Autobiographische bilden in gleichem Maße ihr Arbeitsmaterial. Margaret Hondas gesamte Praxis basiert auf der Untersuchung von Produktionsmethoden und deren Arbeitsprotokollen und setzt das Verschieben von Maßstäben, Konzepten und Funktionen voraus. Durch Einbeziehen verschiedenster Medien wie Skulptur, Fotografie, Performance, Zeichnung und seit jüngstem Film, prüft sie das Material der eigenen Produktion und untersucht die Prozesse der Herstellung, der Präsentation und des Anschauens von Objekten.
Im Künstlerhaus Bremen zeigt die Künstlerin eine neue, zeitbasierte Arbeit mit dem Titel Film (Künstlerhaus Bremen). Während den vierzehn Ausstellungswochen wird das gesamte Sortiment an E-Colour+ Lichtfiltern der Firma Rosco, die üblicherweise in der Filmindustrie verwendet werden, je auf die sechsundfünfzig Fensterscheiben des Künstlerhauses angebracht. Da nur sechsundfünfzig Filter gleichzeitig präsentiert werden können, verteilt sich die Gesamtmenge von 323 Filtern auf sechs "Filmrollen", die je für sechzehn Tage zu sehen sind. Für die meisten Besucher, die Künstlerin inbegriffen, wird es aufgrund der Rollenwechsel und der sich täglich ändernden Lichtverhältnisse nicht möglich sein, das Werk vollständig zu erfahren.
An Answer to 'Sculptures' wurde als Antwort auf Margaret Hondas Ausstellung Sculptures bei Triangle France, 2015 in Marseille, entwickelt. Gemeinsam mit dem Künstlerhaus Bremen hat die französische Institution die signierte und nummerierte Edition von Writings veröffentlicht. Diese beinah komplette schriftliche Aufzeichnung Hondas Arbeit, lektoriert von Matthew Evans und gestaltet von Dan Solbach, ist ebenfalls im Künstlerhaus Bremen gezeigt und käuflich zu erwerben. An Answer to 'Sculptures' ist Margaret Hondas zweite Einzelausstellung in Europa und ihre erste in Deutschland.
Die Ausstellung ist kuratiert von Tenzing Barshee und Fanny Gonella.
Informationen zum Rahmenprogramm finden Sie
hier
.
Since the late eighties,
Margaret Honda
(*1961 in San Diego, lives and works in Los Angeles) has developed a practice that is deeply sculptural in nature and in which historicity of objects, auto-biography and process all play equal roles as working materials. A reconsideration of production methods and their protocols as well as the basic premise of rearranging things—scale, concepts, functions—underlies her entire work regardless of the medium she deploys. Sculpture, photography, performance, drawing and, more recently, film, are media through which the artist examines the material basis of her output and interrogates the processes by which objects are made, presented and seen.
For her exhibition at the Künstlerhaus Bremen, Margaret Honda has made a new time-based work titled Film (Künstlerhaus Bremen). Throughout the fourteen weeks of the exhibition, the entire range of E-Colour+ gels from the company Rosco, normally used as light filters in the film industry, will be placed each on the gallery's fifty-six windowpanes—turning their physical presence into the main focus. Only fifty-six gels can be installed at a time, hence the entire set of 323 filters is divided into six reels, each on view for sixteen days. Most people, including the artist, will never see the entire work, which will change not only with each different reel, but also with the shifting light conditions throughout a single day.
Honda conceived of An Answer to 'Sculptures' as a response to her exhibition Sculptures, which took place at Triangle France, Marseille in 2015. Together, the two insitutions have co-published the signed and numbered edition Writings. This almost complete written record of the artist's work, edited by Matthew Evans and designed by Dan Solbach, will be on display and available at Künstlerhaus Bremen. An Answer to 'Sculptures' is Margaret Honda's second solo exhibition in Europe and her first in Germany.
The exhibition is curated by Tenzing Barshee and Fanny Gonella.
Further information on the programme can be found
here
.
Die Ausstellung wird gefördert durch:
---
Vorschau // soon:
20. August – 6. November 2016
Eröffnung: Freitag, den 19. August, 19 Uhr
Künstlerhaus Bremen // Am Deich 68/69 // 28199 Bremen
Tel: 0049.(0)421.508 598 / Fax: 0049.(0)421.508 305
Mail: buero@kuenstlerhausbremen.de
www.kuenstlerhausbremen.de
Finden Sie uns auch auf / Find us on Facebook.
Öffnungszeiten: Mi – So 14.00 – 19.00 Uhr
Opening hours: Wed – Sun 2:00 p.m. – 7:00 p.m.